Railways
Books >
Railways
>
THE OXFORD COMPANION TO BRITISH RAILWAY HISTORY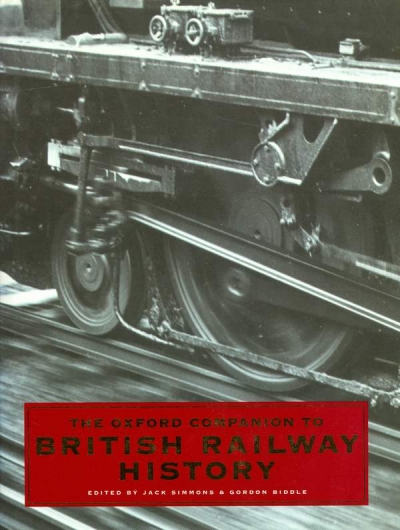 Simmons, Jack & Biddle, Gordon (editors)
THE OXFORD COMPANION TO BRITISH RAILWAY HISTORY
From 1603 to the 1990s, b&w illustrations from diagrams, drawings and network maps (see specimen page below), tables and graphs in text, appendices giving imperial and metric measures, historical money values and sectional maps of the railways, xvi & 591 pp, black boards in d/w, spine of d/w faded, d/w a little creased at edges of spine, otherwise in very good condition, Oxford University Press 1997
24.4 x 18.5 cm, 1520g, ISBN 0 19211 697 5
See the description below from the rear of the dustwrapper. It would be difficult to imagine a more comprehensive work on this subject – the entries are printed in very small type in double columns (see specimen page below).
Still in print in hardback at a steep £69. The book was, almost unbelievably, also published in paperback, though we would imagine a book of this size and weight would have a very limited life without hard covers. The fact that the paperback edition is now out of print is perhaps significant . . .
Beware – this is a large and very heavy book and would cost a fortune to send abroad. If you are outside the U.K. and are thinking about buying it, please email us first on enquiries@monkshillbooks.co.uk and we will quote a price for postage.
£12.50
(FREE UK Mainland delivery)
Click to enlarge images below